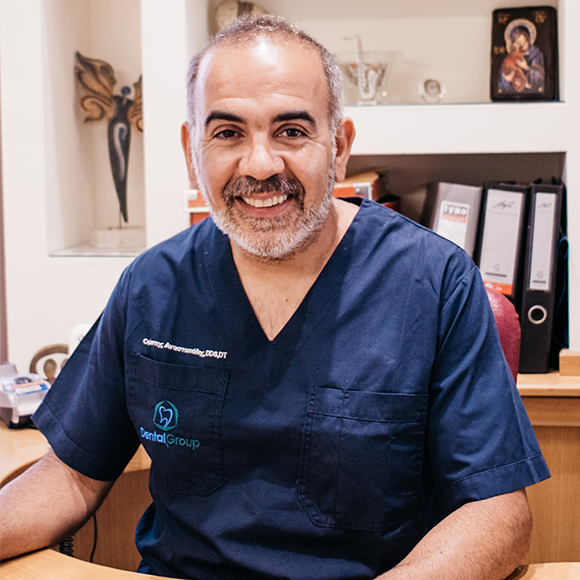 Orestis Anastasiadis  MSc, DDs, DT
Orestis Anastasiadis graduated from the Technical Institute in 1992, with the title of Dental Technician. He then went on to study at the Athens Dental School, where he graduated in 2002. Parallel with his studies, he maintained a dental prosthetic laboratory specializing in aesthetic dentistry.
Dr. Anastasiadis completed a two-year Master of Science in Implant and Oral Surgery on the subject of a dissertation "Survival and Success of short dental Implants in patients with advanced jaw reabsorption in comparison to large implants with bone augmentation".
Since 2002, he has settled in Volos, where he works as a dentist surgeon — Implantologist with an emphasis on oral surgery, prosthetics, implantology, aesthetic dentistry with resin veneers and ceramic materials.
Believing in continuing education and in order to deepen his knowledge he has since then attended a plethora of post-training programs and seminars in many countries.
Dental Aesthetic (Frankfurt 1992, ICDE Lichtenstein 1995, Koln 2011, Koln 2013, Shanghai 2014) ITI (International Team of Implantology) Post-Study One-Year Implantology Program, Athens, 2011-2012.
Advanced Implantology of ITI, School of Dental Medicine, Tufts University, Harvard Universtity, Boston, 2014.
Bi-annual Postgraduate program at the Clinical of Diagnostic and Radiology of Mouth, Athens, 2014.
Master of Science (M.Sc.) in Implantology and Dental Surgery (Essen, Germany)
In addition, he is a certified partner of Straumann Implants, Invisible Orthodontic Clear Aligner and Orthocaps Systems, Digital Smile Design (DSD).
He also has certified practical training in the field of Botox Implant.
Finally, he is a member of scientific firms such as ITI (International Team of Implantology, ICOI) (International Congress of Oral Implantologists) and DSD ( Digital Smile Design).
Nea Inia Volos – Nea Dimitriada Volos –
Sesklo Magnesia